How To Increase Your Facebook Landing Page Conversion Rates?
Whether we admit it or not, most people are still used to buying things using Facebook or Google. Facebook and Google Ads are undoubtedly the most popular advertising platforms for brands and advertisers. Often we will spend a lot of time studying the average CTR, CPM and other data statistics ​​of these platform advertisements, and try to control our costs and budgets within a controllable range. But perhaps, we overlooked an important but easily overlooked thing, that is our ads landing page.
Users who are willing to click on ads are largely our accurate target audience. However, in this process, we are likely to lose this part of users due to inappropriate landing pages. Today, let 's take a closer look at the issues related to the Facebook landing page. And, through the excellent case of Facebook ads landing page recently tracked by LandingSpy, we can analyze the reasons or elements of its success. Find out what method can help us create a high conversion rate Facebook landing page.
What is Facebook landing page and why is it important?
Before entering the topic, we first need to figure out, what is Facebook landing page, and why is it important.
We all know that when Facebook advertises, it is usually displayed to users in the form of pictures or videos. After the user sees the advertisement, if they are interested, they will click the advertisement. After clicking, the user will link to a page, and this page is the Facebook landing page.
Perhaps you will say, why do we need to make a customized Facebook landing page separately? After clicking on the Facebook ad, link directly to my official website homepage? But in fact, for most brands or e-commerce sellers, the official website can not meet their needs. They have different products that need to be promoted. They have different activities that need to be promoted in different periods. They need to conduct A/B testing to find the highest conversion rate landing page. This can only be done with a customized Facebook landing page.
Through LandingSpy, we tracked the Facebook landing page that recently placed ads on Facebook, and analyzed and summarized some general rules and methods to help us improve the conversion rate of the Facebook landing page.
8 ways to create a Facebook landing page with a high conversion rate
1. Be consistent with Facebook ads visually and copywriting to fully meet user expectations
If you see an advertisement on Facebook that appeals to you, you are very interested in this product, or you want to know more about this event. So, you clicked on this ad with enthusiasm, and then you couldn't find what you want to see. This Facebook landing page is completely different. It's basically two things with the ad you see. Do you feel cheated?
This is why we need to create a Facebook landing page separately instead of using our website directly.
We must fully meet the expectations of users, create a Facebook landing page for your ads campaign, the visually and the copy must be consistent with the Facebook ads campaign.
For example, the following pictures are three different styles of landing pages of UC San Diego, we may be able to see the regular pattern.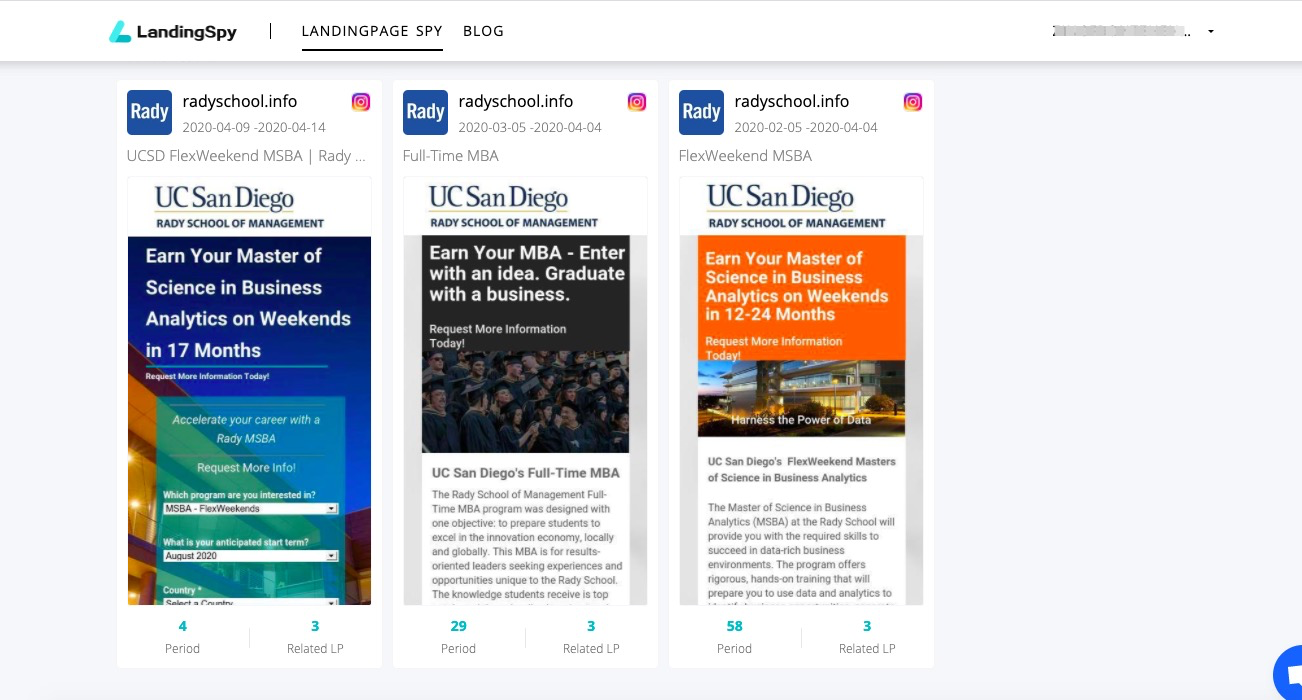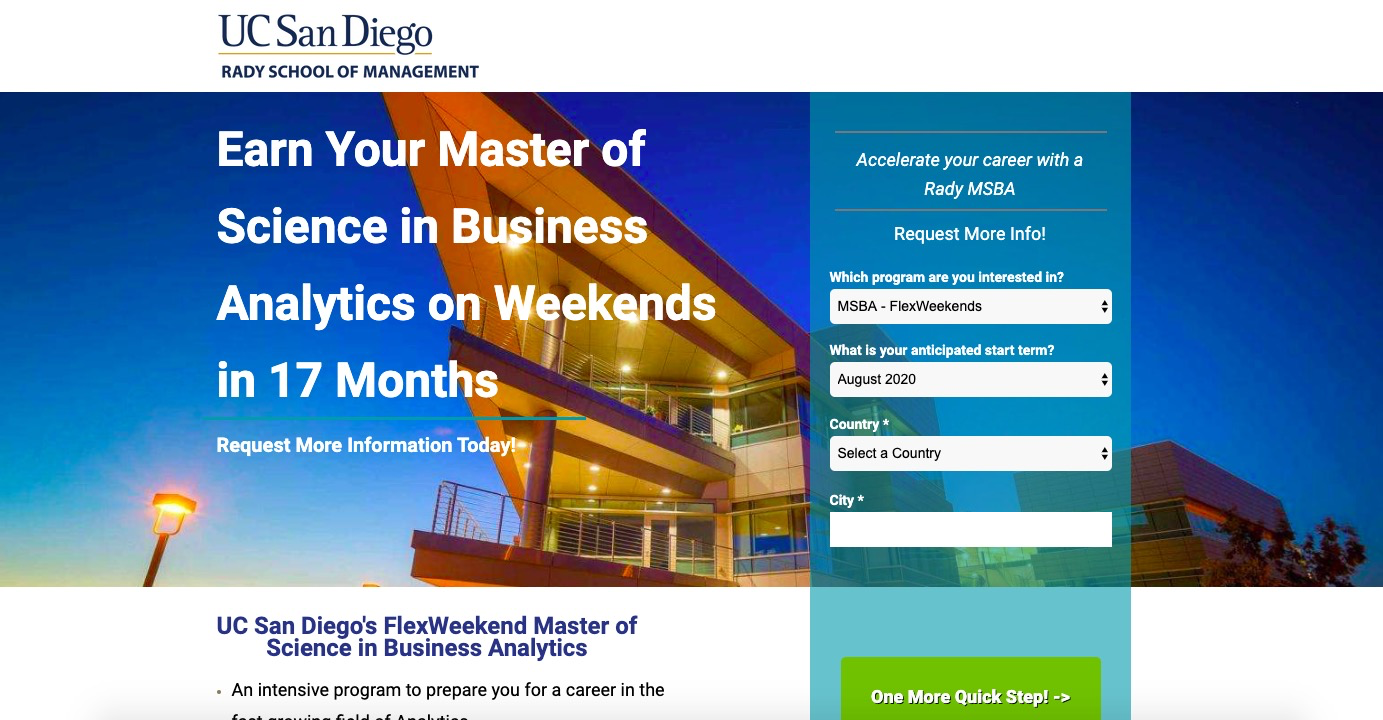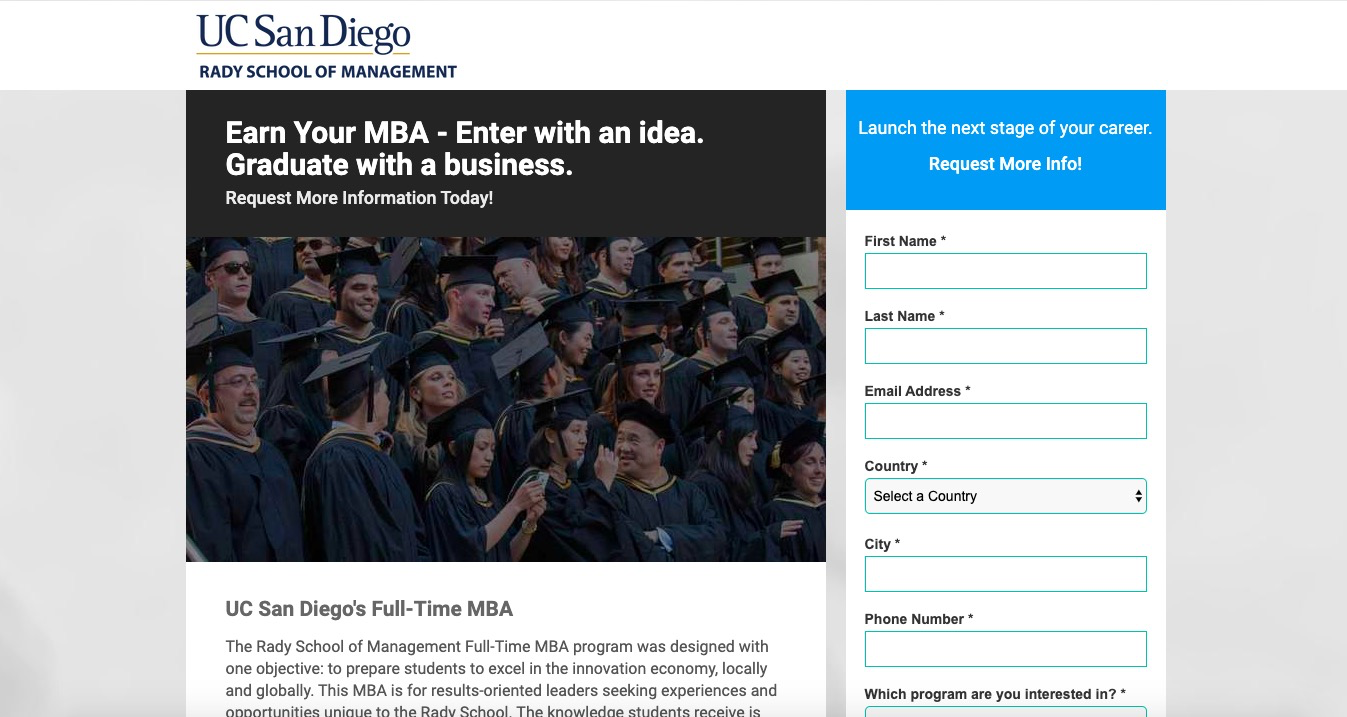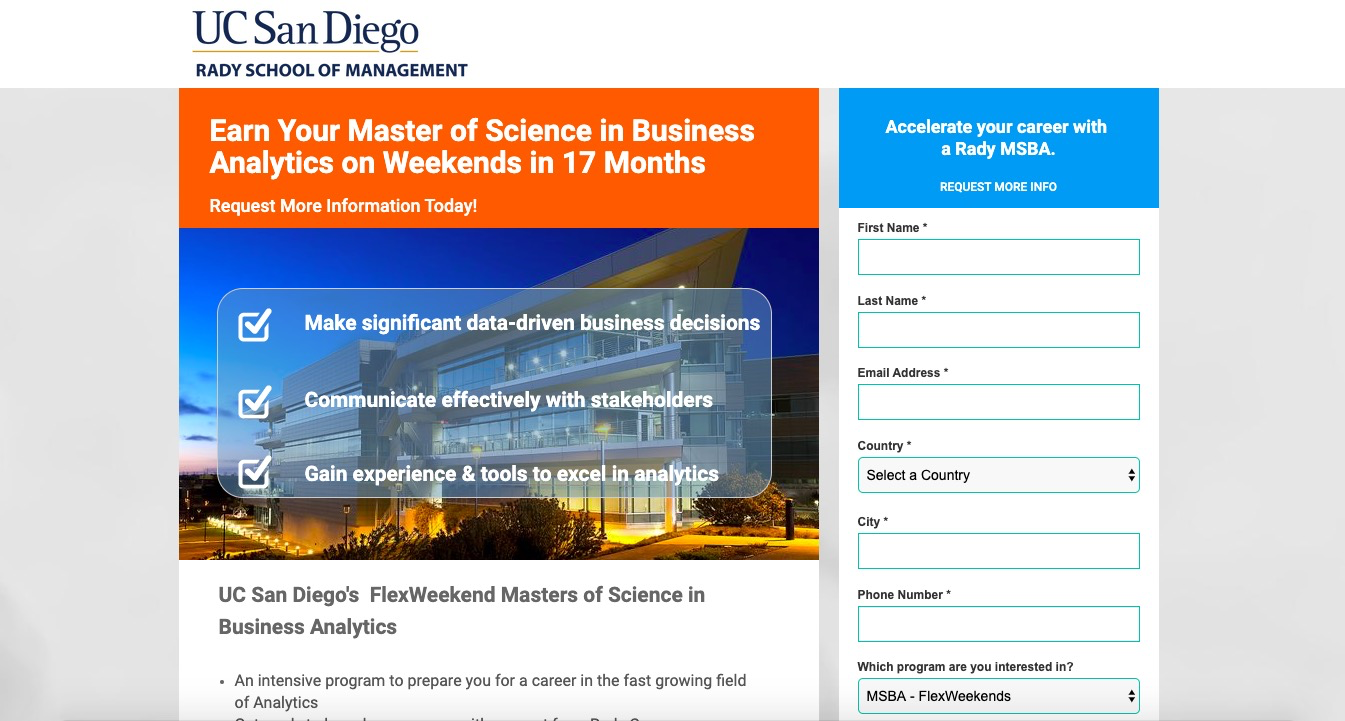 You can search for the landing pages of various platforms on LandingSpy, especially the Facebook landing page. You will find that most of the Facebook landing pages are made separately for ads campaigns, and some are undergoing A/B testing. And then,they will choose a landing page with a higher conversion rate and do long-term advertising.
2. Make clear the purpose of your Facebook landing page, then design and create landing page around this purpose
This is very important, what kind of purpose do you want to achieve through the Facebook landing page, in other words, what do you want users to do. You have to design your landing page around your purpose. For example, this is a Facebook ad landing page of stock investment I found on LandingSpy. Its main purpose is to hope users fill in their own email.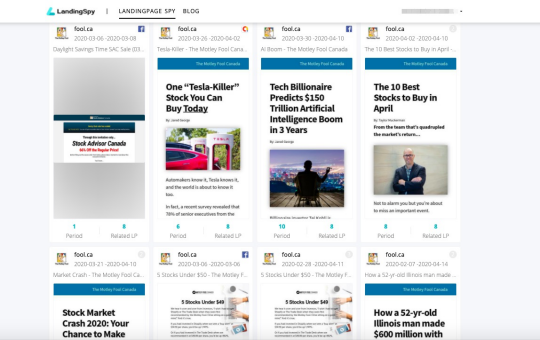 Advertiser fool.ca uses different copywriting and design to highlight that anyone can make money through stock investment. And In the end, prompt the user to enter their email to get more information.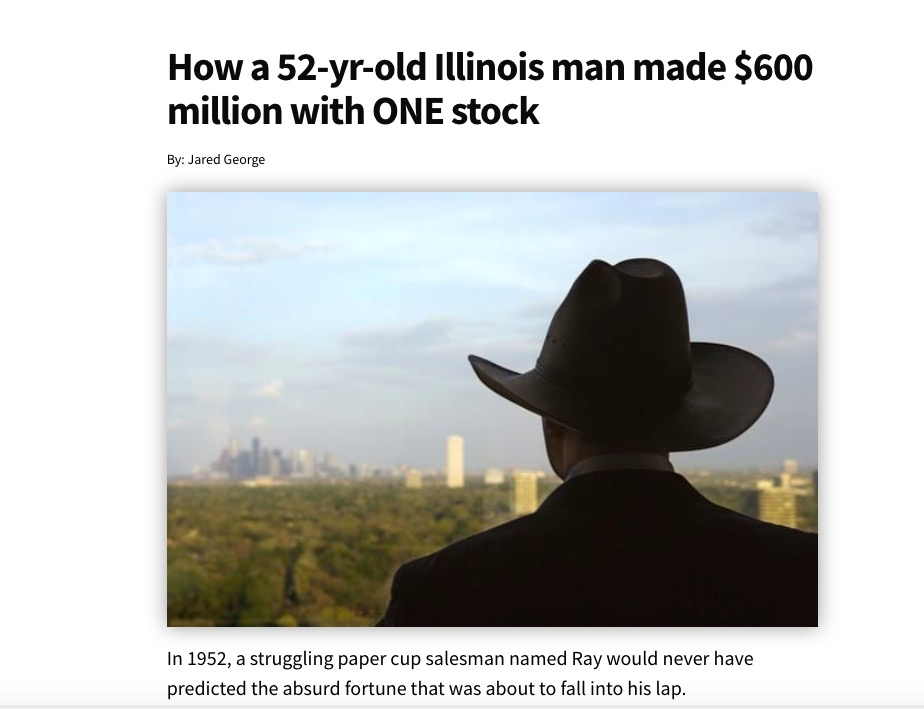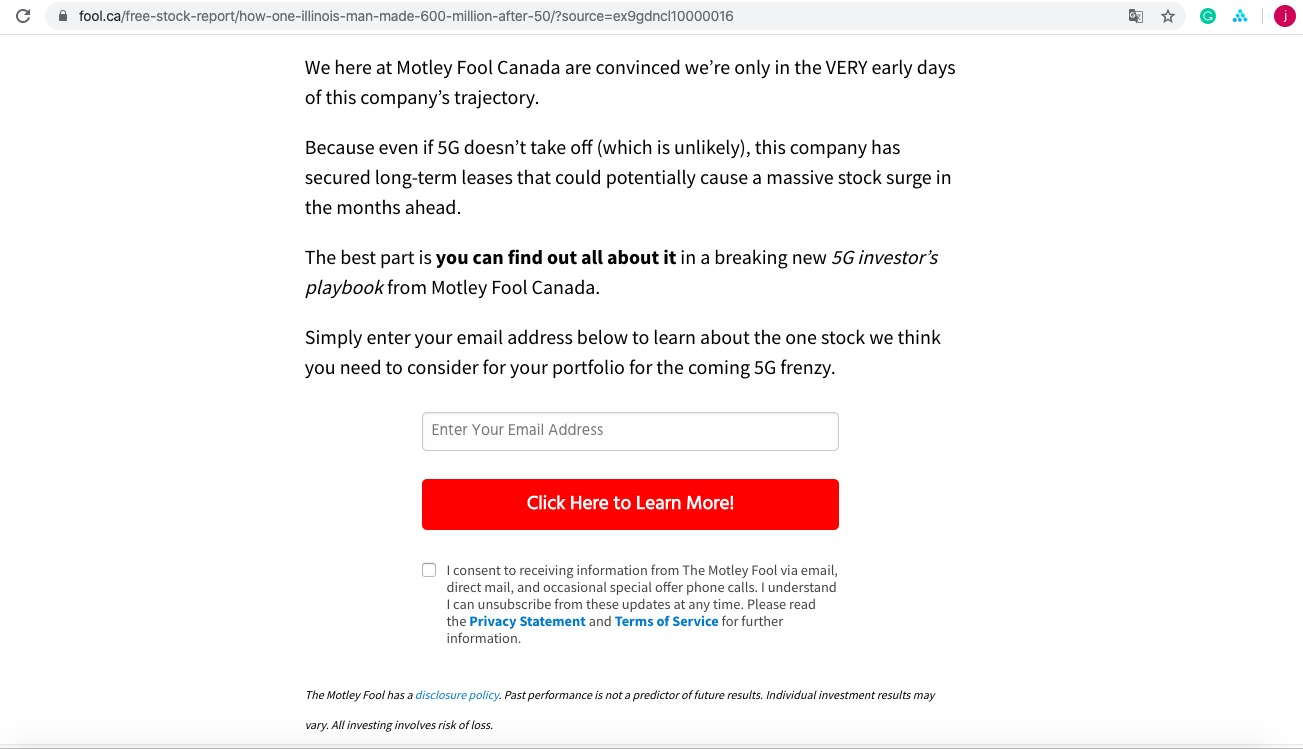 3. Have a strong and appealing CTA
A strong CTA may really change your conversation rate. So how do we set up CTA?
First, the buttons of red, orange, blue may be more appealing.
If you are not sure how to design, you can search LandingSpy for a good landing page, and then check the code of the page to find the various values ​​of the CTA button for reference.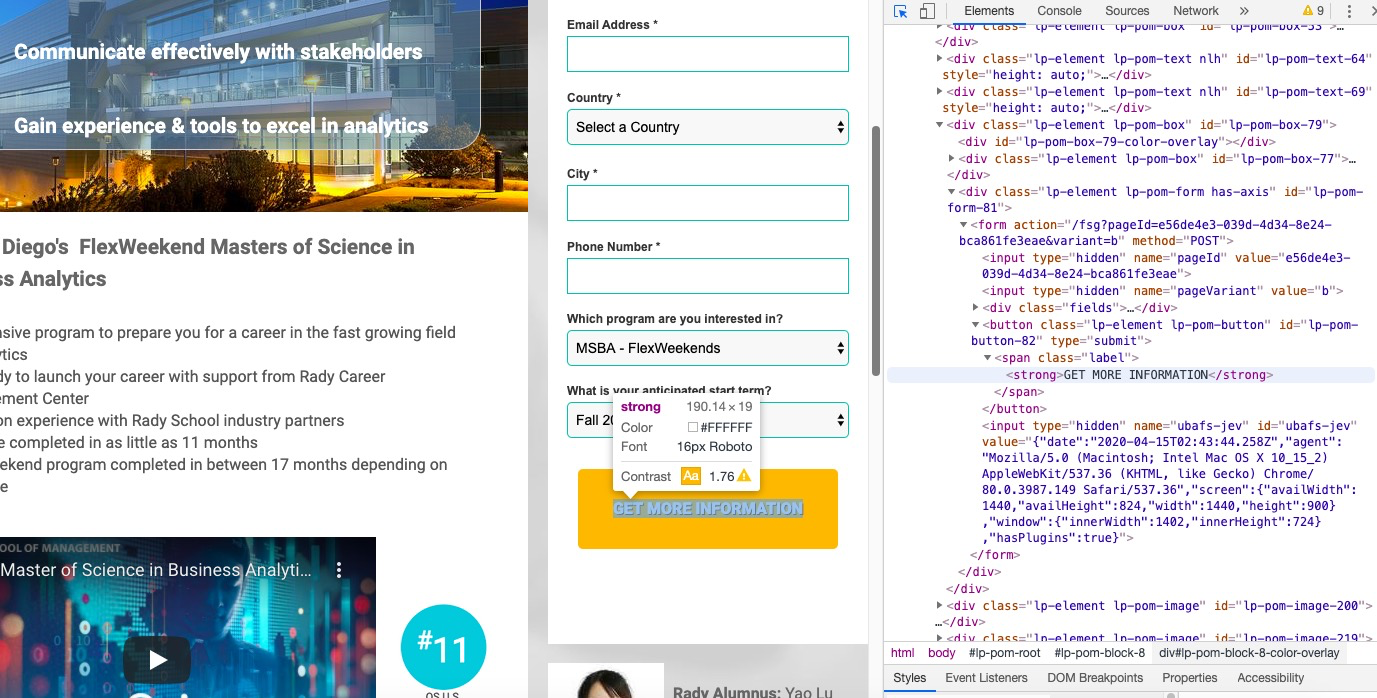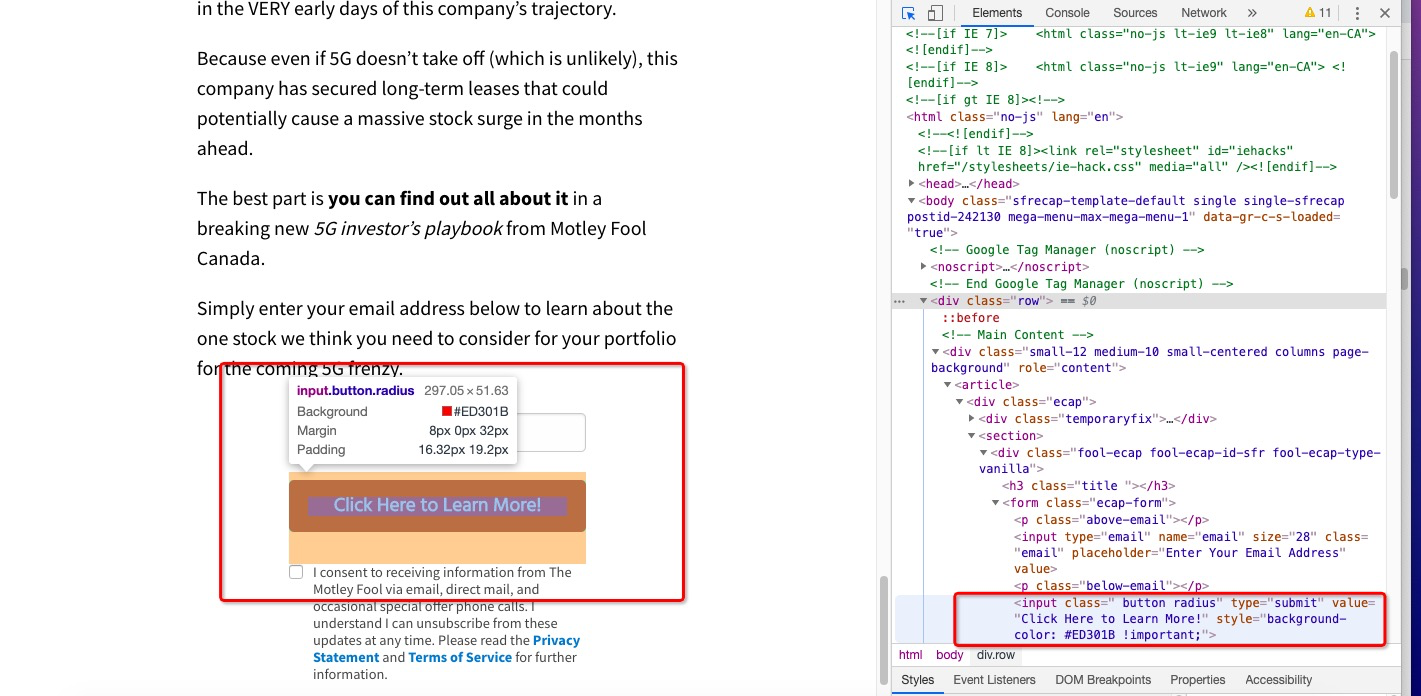 Second, you need a strong, appealing copy.
Usually, this kind of copy is an affirmative sentence pattern, usually with the symbol "!". It clearly tells the user what you should do and what you can get.
Click here to learn more!
Get more information!
Join now & Get one month free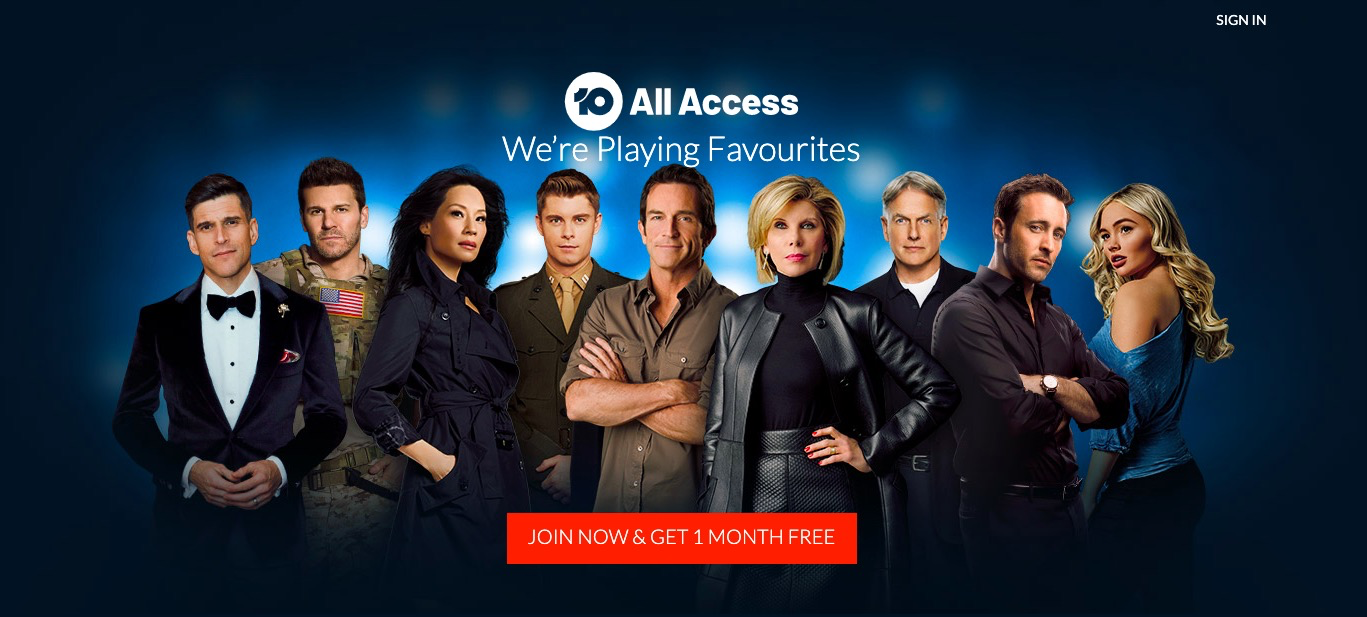 4. The Facebook landing page is best not to use your official website
Why don't use your website, but create a Facebook landing page for your Facebook ads campaign separately? I think I have explained this question in detail at the first point of this article. Look at your competitors, they may have placed hundreds of Facebook ads, and these hundreds of Facebook ads have their own landing page. Do you still want to be lazy? Don't waste money on unworthy things.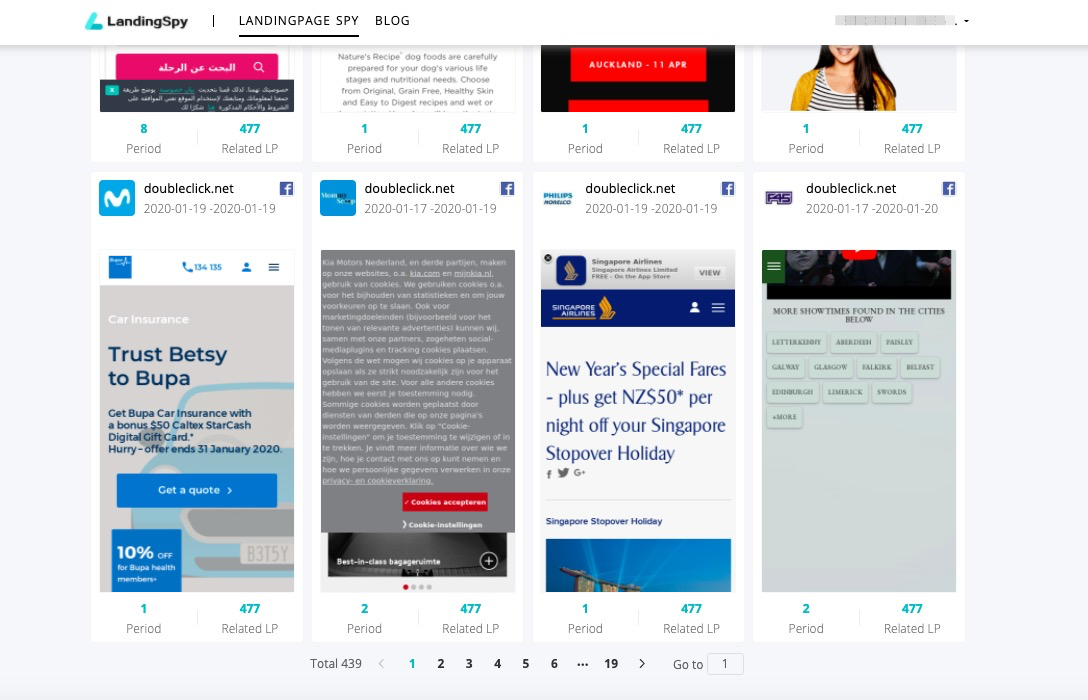 5. Perform A/B test on the Facebook landing page
A/B testing is a very routine operation, usually, we will change some elements on the landing page to test. After actually placing ads, observe the performance and conversion rate, and finally choose a high conversion rate landing page for long-term advertising. Therefore, the "period" of landing pages we see on LandingSpy are particularly long and are usually verified to be high conversion rates.
This is the case of advertiser UC San Diego. Look for the difference between the two Landing pages.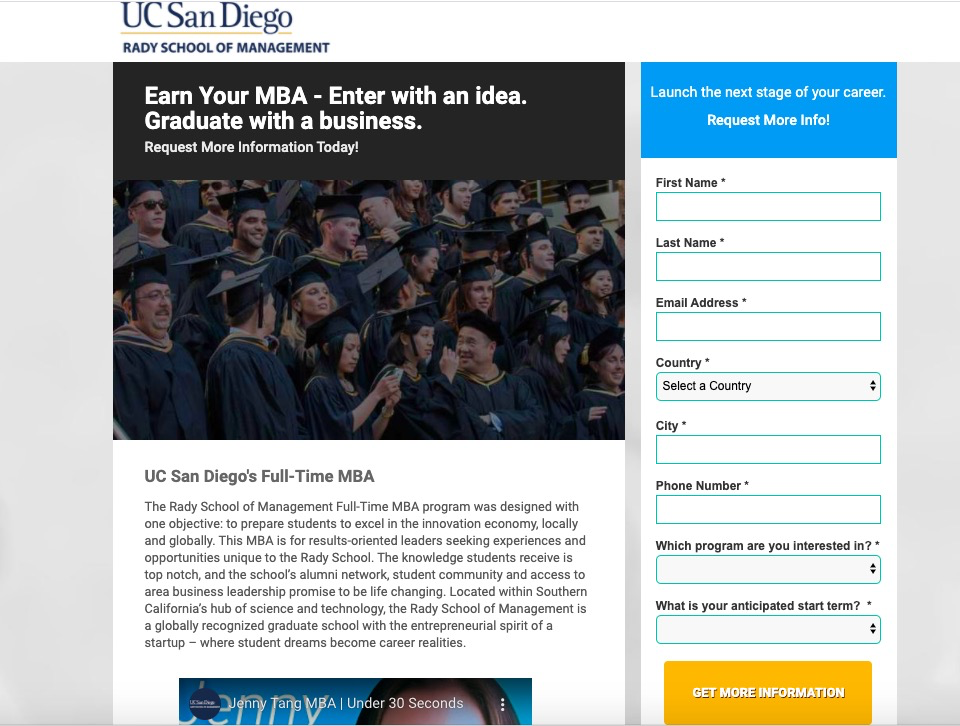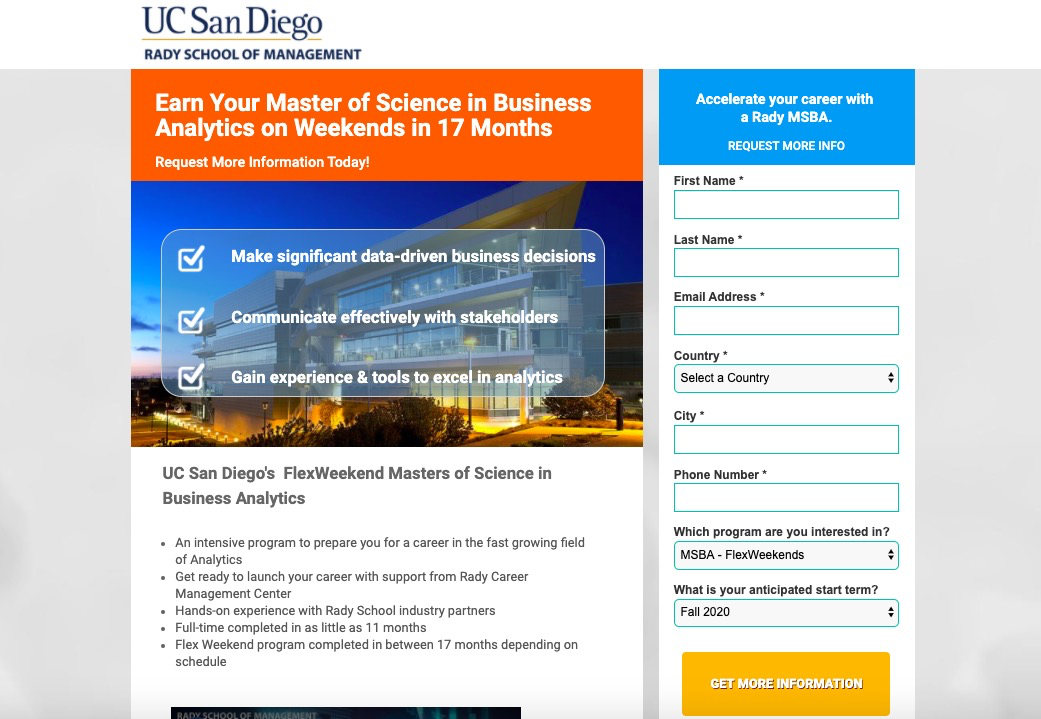 ① The color of the picture is different, the background of the first title is black, and the second one is orange
Earn Your MBA-Enter with an idea. Graduate with a business.
Earn Your Master of Science in Business Analytics on Weekends in 17 Months
The second headline is more explicit, giving the time limit, "on weekends in 17 month", and the specific item "earn your master of science in business analytics".
Although the first headline'word is more beautiful, it is clear that the second headline is more readable
③ The banner pictures of the two landing pages are different.
④ The second landing page gives the pre-selection in the last two questions in the table. Point more clearly.
⑤ The content of the two landing pages is different.
The first is a complete paragraph, and the text of the second landing page uses a clearer sub-paragraph, and one paragraph indicates a point.
So, which Facebook landing page do you think has a higher conversion rate?
There is no doubt that it is the second one.
6. Don't include content prohibited by Facebook
If you don't want Facebook to turn off your ads, then please don't post content that is banned by Facebook. So, what content is banned by Facebook? We saw this information from the official website of Facebook.
Direct ads to landing pages with minimal original content, low-quality content or content that is difficult to access.
Distract from your landing page's original content with excessively embedded or pop-up ads.
Bait people into clicking on ads by using overly cropped ad images, or shocking or sexual ad copy.
Attempt to monetise Facebook ad views. For example, Facebook ads shouldn't link to a destination page that requires people to click through other ads to access the site's content.
Use low-quality advertisements, or shocking or sexualised ad imagery.
7. Your Facebook landing page preferably contains outgoings link
I don't know why, but all the Facebook landing pages I've seen include the outgoings link. Surprising as it sounds, Facebook wants advertisers to give users the ability to go to another page from your landing page.
Similarly, we researched a large number of Facebook landing pages through LandingSpy, which fully verified this view. Almost every Facebook landing page has an outgoings link, and some even have a dozen or dozens of outgoings links.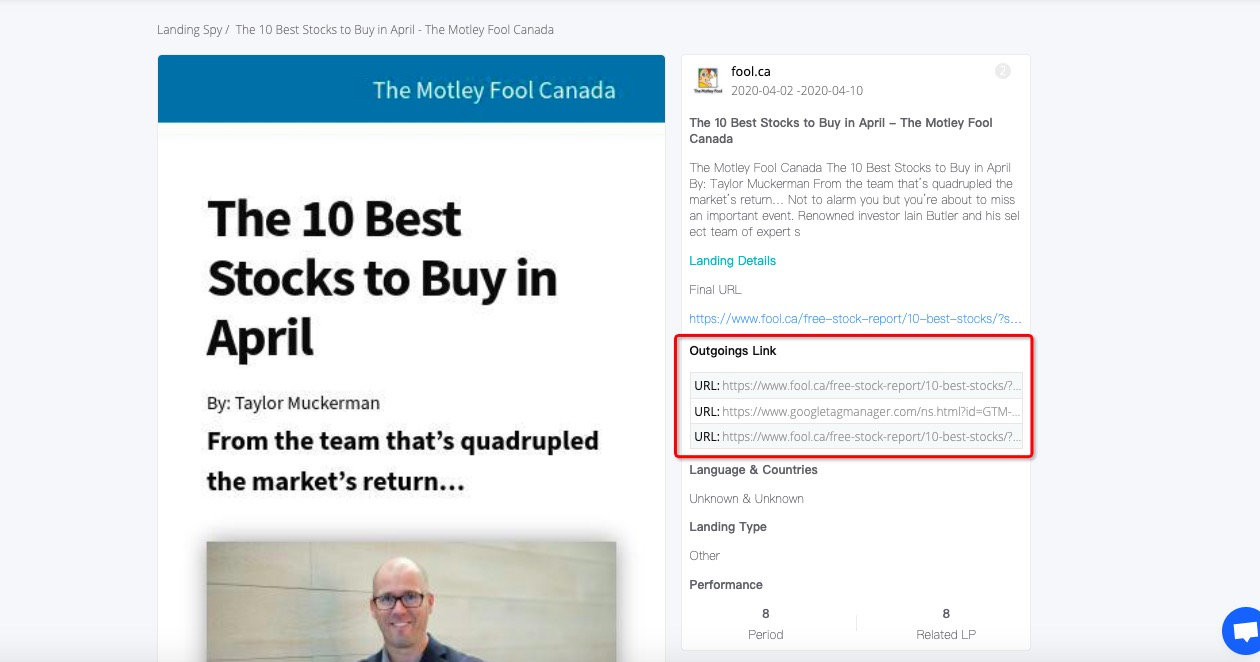 8.Link to your privacy policy
This is a must-have item; otherwise, Facebook may reject your ad or even shut down your account.
It is not difficult to find a case, because almost all Facebook landing pages are like this. Just do it, and do not ask why.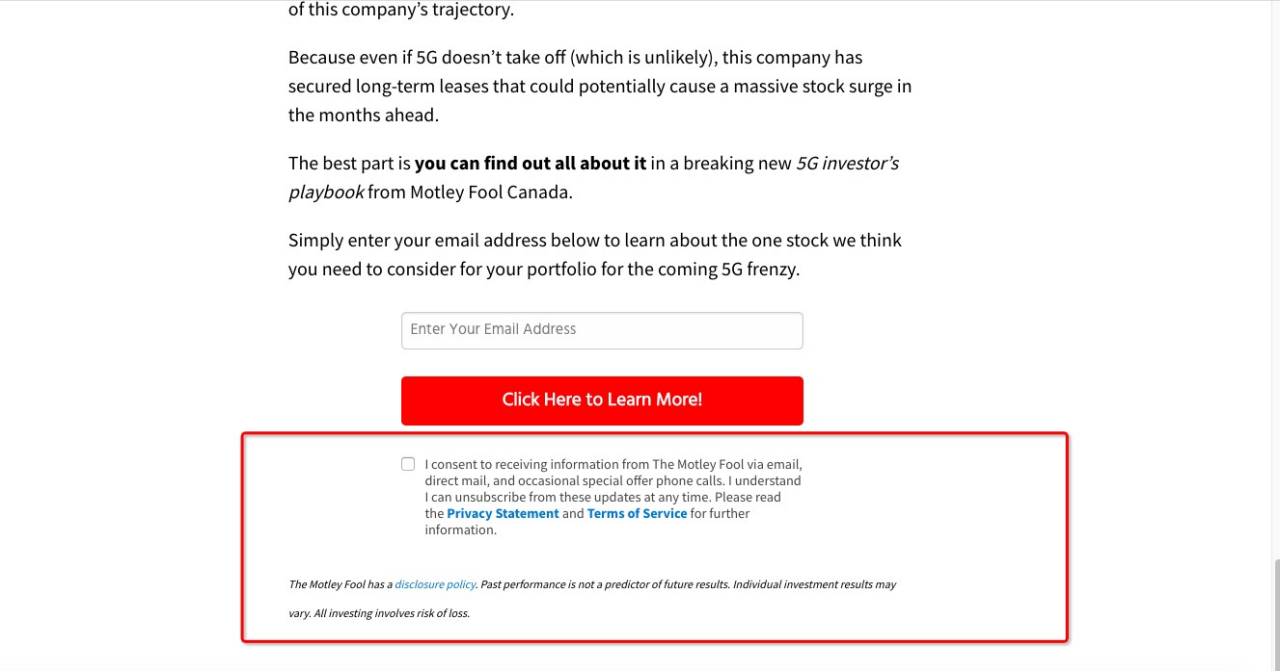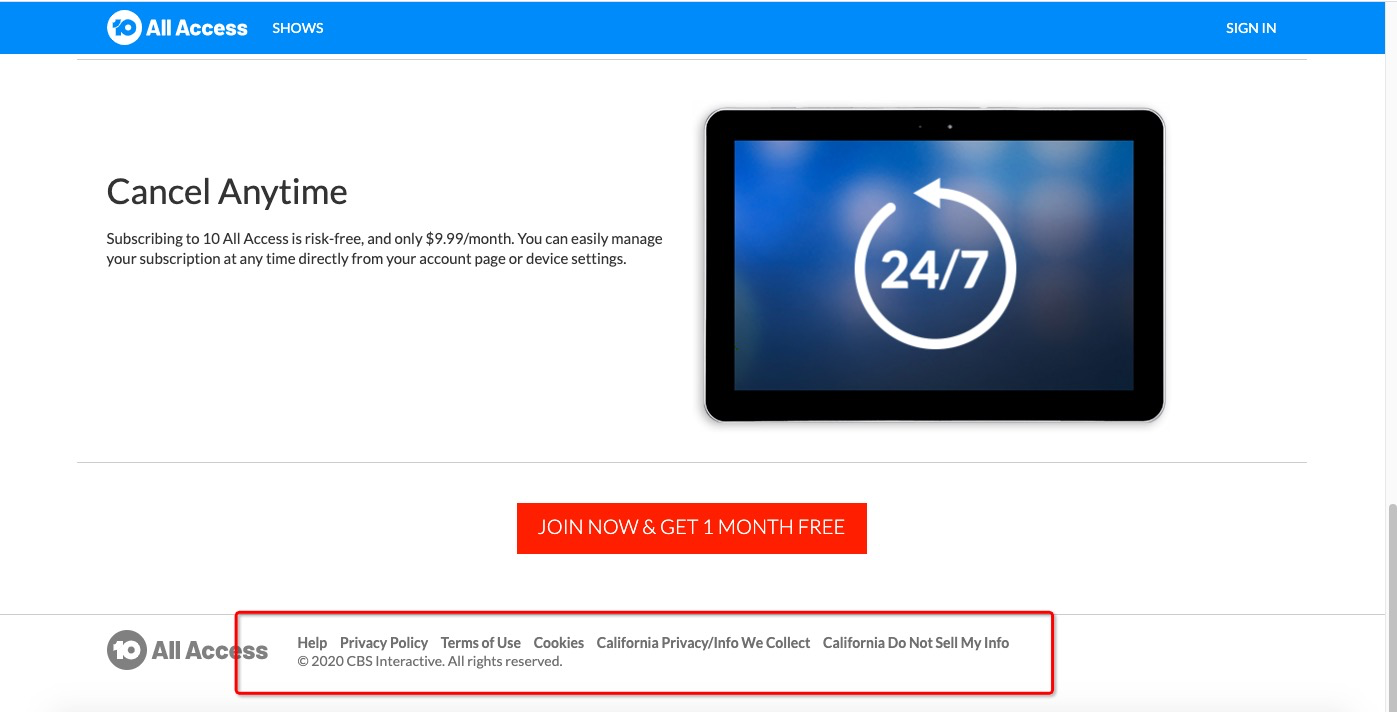 This is what I shared today. With more research and more testing, you can also create a high conversion rate Facebook landing page as well. The pictures in this article are from LandingSpy and corresponding landing page screenshots.